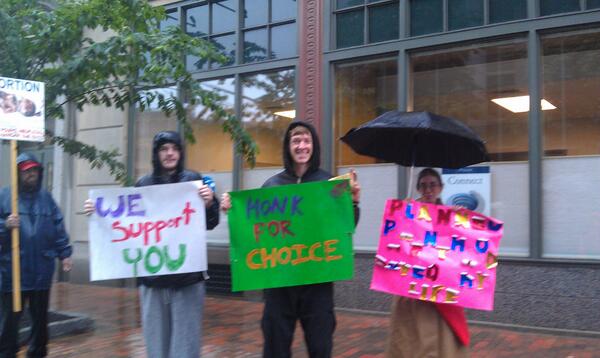 We got a lot of Honks for Choice
Until recently I'd intentionally veered clear of the abortion debate due to the extremeness of demonstrations on either side of the confrontational topic. What most caught my attention in the past were those infuriating images of dead fetus' that so-called "ProLife" demonstrators held outside of Planned Parenthood clinics.
Between these and the Christian terrorists, I'd conceded that such a topic wasn't worth fighting over. I hadn't even considered the legitimacy of the arguments, and believed that as a man, it isn't my place to get involved. This, and the highly discouraging language of my parents (they didn't want to talk about abortion practices) prevented me from forming a solid opinion.
Today, my view point has changed. After attending one such demonstration and speaking with people close to me about their abortion experiences it seems simple and rational understanding that every situation is different, and in instances of rape, incest, or when a to-be mother is unfit or incapable of caring for a child, abortion should most definitely be allowed, without question.
If a woman can, with a clear conscience, abort her own fetus, perhaps she isn't prepared to raise a child yet, anyway. Now I don't suppose myself to be highly knowledgeable on the subject, but it seems that the person who understands their situation best is the individual choosing.
Under a few circumstances this line of reasoning could certainly be challenged, however nothing can justify the guilt inculcated by protesters screaming, "Child killer."
Regardless of my viewpoint, change is thick in the air, and the war rages on.
Jeremy Allen is a graduate of Green Mountain College and a part time hippie. He studied business, and enjoys social activism, as well as making tea. He's one of those people who thinks, long and hard, before he opens his mouth.
In his spare time, he can be found wandering around Maine, trying to start conversations with people.